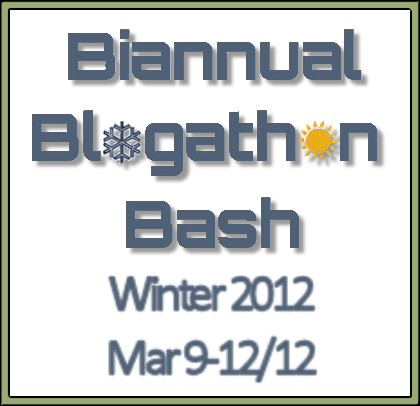 It's time!
The Biannual Blogathon Bash has started! It runs 8am EST March 9 to 8am EST March 12 – 72 hours to get as much blogging done as you can. It's not too late to sign up, see here. (Hint: There are Prizes)
To kick off, here are my plans for the weekend.
GOAL: At LEAST 24 hours of blogging TOTAL (Not Consecutive) 
I'd aim for more but I have kids. The two oldest are at school today and then they go to Grandma's house for the night. My niece is coming over to occupy the baby tonight and tomorrow. Then I'm taking a break from the blogathon because I already had a games night scheduled (although I will be reviewing some games I got then!) and then I'll be back on Sunday but I'll have all three kids so don't know how much will get done.
My To-Do List:
Organize Email (I have over 1600 emails to sort through.)
Mass Write Blog Posts (especially reviews but some others ones too.)
Clean up my Pinterest Account
Clean up my sidebars
Change my social media icons so they all match
Do my homework from the Blogelina class I'm taking.
Finish planning and open sign ups for my next cash giveaways
Add some support threads to my Callista's Ramblings Events FB group.
Add a Canadian Blog Blogroll
Who Knows What Else!
I'd love it if you'd cheer me on!