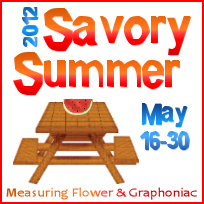 Measuring Flower and Graphoniac are taking signups for the 2012 Savoury Summer Giveaway Hop. All prizes must have something to do with food or cooking in some way or another.
"Savory Summer will be featuring all things food and food-related that can be enjoyed during the summer. Basically, if it is something that a human being can eat, eat with, eat off of, cook, cook with, prepare food with…it belongs in this event!" – from the sign up page
Go on over there, read the rules and sign up!