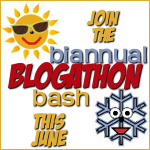 This is a mini challenge for the Biannual Blogathon Bash, a twice yearly blogging marathon but anyone is welcome to read and use the information. However if you are signed up for the blogathon or you sign up and participate before the end of the blogathon, completing this mini challenge improves your chances of winning a prize. The blogathon is June 22-25. If you are participating in the blogathon, please do not complete this challenge until the blogathon has started.
My blog has been around for about 8 years and it has gone through many changes with regards to it's looks. It was once just a lowly plain blog with a regular free blogger template.
Then I had taught myself to make very basic graphics and learned how to add my own header and it was a plain blog with a header. Eventually I learned how to do more small things and they added together and then a few years ago a blogger friend who was still fairly new to designing blogs offered to design my blog for free which is what you see now. She also did SMS Nonfiction Book Reviews. The design has done me well for a few years but I will be switching to wordpress and when I do, I will be getting a new design as well and I am excited!
Even if you are at the beginning stage where you don't know how to edit your free blogger or wordpress (or other site) template or you know a few things but don't have the money for a designer, you can make some simple changes to improve the look of your blog and make it:
More Professional Looking
More Attractive to the Eye
Different From All the Other Blogs
NOTE: I link to other bloggers who talk about what I'm talking about throughout this post. Why repeat what has already been said so well?
Simple Steps to a Better Blog Design
Header – It shouldn't take up the whole screen, nor should it be so small you can't read it. It should also be as wide as your blog is.  It should be unique, it should have your blog name and tag line. Nicole explains well. Use some free graphics programs online (such as picmonkey.com or ipiccy.com to create something yourself for free. HOWEVER before using any images in your header, make sure you are using them without breaking copyright. Try OpenClipart.
Sidebar – A common mistake is to make it too cluttered. We want to show off all the groups and events we join and funny graphics that show our personality and stuff. It's easy to get carried away though. Look at the blogs who you consider very well designed and professional looking. Look at their sidebars. Compare with yours. See a difference? See this mini challenge from last year for tips on cleaning up your sidebar. Also make sure  your sidebar widgets lines up.
Free Backgrounds – There are websites with tons of different backgrounds that are easy to implement. Sure there can still be blogs out there with the same background but it's more rare than when you just have the free themes/templates that came with your blog. Try Cutest Blog on the Block, Hot Bliggity Blog,  Simply Blog It Backgrounds, Shabby Blogs or Background Fairy.
Social Media – Make it easy to find you on twitter, Facebook, Google+, Pinterest and the others. The Facebook like box and such are nice for ease of following but you should have small icons at the TOP of your blog that link directly to the sites as well. They should all be from the same creator too (If my social media buttons still look all different, then it's because I haven't updated mine yet. They look much better on my nonfiction blog.)
Contact – You don't want to miss out on a great opportunity because someone couldn't find an easy way to contact you. You should have a separate contact page linked in your menu (which should be at the top of you blog). Many people use a free form because they are worried about spam. However many people and especially companies prefer a real email address so I highly recommend you offer an email address. Make a separate one for your blog if you want.
About – Do you have an about me page? How am I supposed to know who I am talking to? I MUCH prefer when I can see the face behind the blogger, see if they are a parent or whereabouts they live (doesn't have to be exact, but at least what country would be nice.) What do they do when they are not blogging?
Labels/Categories – They are called Labels in Blogger and Categories in WordPress. This is a way to categorize your blog posts, but they should only used if you will have many posts on the topic in the future (or you already do.) If you end up with too many, it makes it too hard for anyone to see if you posted about a subject that interests them. If you do a book review for example, you may label it "book review" or "review" and maybe "fiction" "paranormal" and "romance" for example. You will likely do more reviews and more reviews of those types of books. You shouldn't add the author's name and book title to the labels/categories though. You will never review the same book title again and even if you review a few things from the same author, if you include every author you review, your category list will get way too cluttered to find anything. If someone is looking for reviews of a certain author, they can search for that. If you are on wordpress, you can use tags for more specific things like people's names, place names etc. Tags are different than categories.
Tone It Down – Go easy on the music and animated graphics and widgets. First of all, it's what you like, but not necessarily what your readers like and although it is YOUR blog, you do want readers and if you have too much, they just won't stay. Add to that the fact that music and animated items take longer to load and if your page takes more than a minute to load (and if I'm in a rush, more than 30 seconds) I'll just give up and leave. (I'm not alone in that though.)
Learn More – reading blogs who post blogging tips and reading books about blogging will help you improve. There are all kinds of tutorials to do all sorts of neat little things. For WordPress help check out Lorelle On WordPress.
If you are interested in looking more in-depth or you have already got the above things fixed the way you want, it may be helpful to see MomComm's Blog Critiques. She has critiqued many blogs and just by reading what she says about other blogs, you can get all kinds of ideas for your own blog. She also sells a DIY Critque Workbook for $14. I haven't seen it but it sounds good.
Mini Challenge
Implement at least two changes to your blog from these ideas. If your happy with your blog design, tell me a short story of when you first started blogging and what your blog looked like then or what mistakes you made. Either way, comment to tell me what you did.