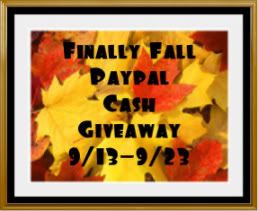 I have teamed up with
Jennifers Savings and
MyCouportiera
 and 16 other bloggers to host the Finally Fall $100 Paypal Cash Giveaway!!! The giveaway starts on September 13th and runs through September 23rd at 12:01 a.m., the 1st day of Fall! All you have to do is follow the instructions on the Rafflecopter widget. A winner will be picked with Random.org via the Rafflecopter widget. You must have a Paypal account before the end of the giveaway to win the prize. The $100 prize money will be awarded in US dollars.
Check out these great sites and see what they have to offer! Thanks and Good Luck!
Just click Read More below if you don't see the widget.
<a href="http://rafl.es/enable-js">You need javascript enabled to see this giveaway</a>.